For Commercial Locations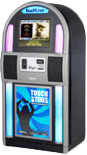 Music: Our company was founded on a single juke box, so we understand how important music is to both our business and yours. We will customize your juke box to the music tastes of your customers.
Download TouchTunes App on Google Play
Download TouchTunes App on iTunes
Games: Stansfield Vending is known for cutting-edge equipment and variety. We not only provide the hottest video games, but we also invest in the latest technologies for your favorite amusement standards – from on-line dart boards and videos to digital juke boxes. Our size allows us to rotate your equipment frequently, keeping your customers excited to enter your location.