For Commercial Locations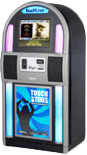 Amusement machines can be a great source of revenue for your location. Stansfield Vending focuses on maximizing your income in areas our competition leaves to chance.
Music: Our company was founded on a single juke box, so we understand how important music is to both our business and yours. We will customize your juke box to the music tastes of your customers.
Download TouchTunes App on Google Play
Download TouchTunes App on iTunes
Equipment: Stansfield Vending is known for cutting-edge equipment and variety. We not only provide the hottest video games, but we also invest in the latest technologies for your favorite amusement standards – from on-line dart boards and videos to digital juke boxes. Our size allows us to rotate your equipment frequently, keeping your customers excited to enter your location.
Accountability: Absolute accountability is our rule. We use machine meters to verify collections, fill out a detailed collection sheet, and employ office staff to double check and track our work. We also collect on a set schedule so we can personally pay you your commissions at a time that is convenient for you.
For Your Home
Looking for a great way to make your home the place to play?  We sell reconditioned equipment of all types!  Pool tables, CD players, dart boards, pinball machines, foosball tables and selected video games are our most popular offerings.  Stop in or call 608.782.7181 or (800) 356-9586 for details and current selection.